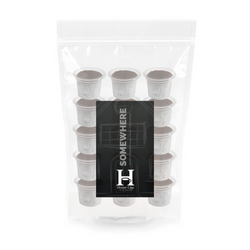 Somewhere Blend FTO Pods
Available in our compostable, 360-degree filter single-serve Kcups, a favorite of House Cup customers, "Somewhere Blend" is nicely balanced and smooth (not bitter or burnt-tasting)—a recipe lovingly honed by the owners of House Cup Coffee Roasters over plenty of early mornings. Somewhere Blend combines the roasted nut and chocolate notes from South America. It is roasted a tad darker than medium blend (we call this "Full City" in the biz) but still feels light enough to be your "every morning" coffee.
Each sealed package includes 15 pods. To maintain freshness, keep unused Kcups in the clear plastic bag or sealed container until use.

NOTE: This coffee is also available in our online store in 16 oz. bags whole bean or ground to your preference.