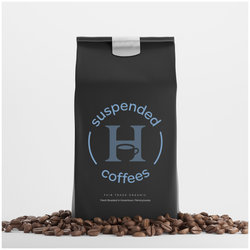 Suspended Coffee Donation
You can now purchase a bag of "Suspended Coffee" that will be donated to a local food bank. We split the cost with you — so for $8.00 we'll include your donated bag of coffee in the next food bank distribution to families. And you can donate as often as you want (you can even add it to a regular subscription too).  Currently we supply local fire companies and food banks with fresh roasted coffees donated in part by our customers and House Cup owners.
SUPPLYING LOCAL FOOD BANKS
House Cup Coffee provides bags of fresh roasted coffee to local food banks. We've launched our program in support of the Hope Church Food Bank and the TLC Food Pantry, both located in Havertown, Pennsylvania, who currently supplies needed products to 100-plus families including canned goods, produce, supplies and now locally roasted coffee.

It's that simple to change the lives of people within our community in need.
REMINDER: You are not purchasing this bag for yourself, delivery or shipping. Suspended Coffee bag purchases go directly to the local food bank. Any questions, just let us know!