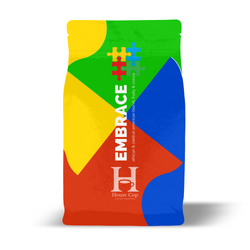 Embrace Blend FTO
We're excited to offer a delicious coffee blend - Embrace - that supports autism education. House Cup Coffee Roasters donates $1 for each pound of this coffee purchased to the Kinney Center for Autism Education and Support at Saint Joseph's University in Philadelphia.
Combining the fruit notes from Ethiopia with dark chocolate notes from Costa Rica, we have produced a coffee with a full-bodied sweeter coffee with a hint of dark berries.
The Kinney Center provides multidisciplinary education and training opportunities for students, teachers, professionals, and parents who seek to improve and extend opportunities, outcomes, quality of life and best practices in treatment for individuals with Autism Spectrum Disorders (ASD). The Kinney Center also offers services, resources, and information; support and guidance; and tools for public and individual advocacy that contributes to improved autism awareness and care. To learn more go to sju.edu/kinney.